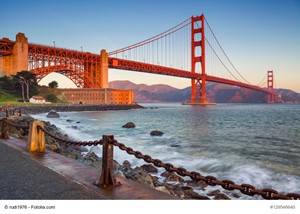 Los Angeles, Beverly Hills and other California cities boast a wide range of luxury houses. And for those who appreciate the finer things in life, there may be no better option than purchasing a Golden State luxury residence.
Ultimately, there are many wonderful reasons to buy a luxury home in California, including:
1. You can enjoy best-in-class amenities.
Whether it's a deluxe spa or landscaped garden, many California luxury homes feature unparalleled amenities. Thus, you should have no trouble living in comfort and elegance if you choose one of the many Golden State luxury homes that are currently available.
When you're searching for a California luxury home, try to learn as much as possible about the residence's amenities. That way, you can select a Golden State luxury residence that matches or exceeds your expectations.
For example, if you want a luxury home in downtown San Francisco, you may want to consider a residence with a top-of-the-line gym. With a terrific in-home gym in place, you can stay in shape and ensure you're prepared to trek along San Francisco's seven hills day after day.
On the other hand, if you're buying a luxury home in Malibu, you may want to look for a house on or near the beach. This will ensure you can enjoy surfing, lounging in the sun and other beach activities any time you choose.
2. You can reap the benefits of superior luxury home technology.
No luxury home in California would be complete without state-of-the-art technology. In fact, many Golden State luxury homes are equipped with electronic security, smart carbon monoxide detectors and other superb technology that make it easy to transform an ordinary living experience into an exceptional one.
Perhaps best of all, luxury residences that feature superior technology are available across the Golden State. This means if you want to buy a luxury San Diego beach cottage or a deluxe mid-century modern house in Palm Springs, you're sure to find plenty of excellent houses that feature the latest and greatest technology.
3. The value of your luxury home may rise over time.
California offers a terrific place to live. From its beautiful beaches to its historic landmarks, the Golden State represents a top choice for those who want to enjoy a beautiful, fun and exciting place to call home.
As a luxury homeowner in California, the value of your property may increase over time thanks in large part to the popularity of Golden State luxury residences.
Of course, you'll still need to dedicate time and resources to maintain your California luxury home's interior and exterior. But with a commitment to home maintenance, you can keep your California luxury home looking great both inside and out and increase the likelihood that your residence's value will increase in the years to come.
Clearly, there are many great reasons to begin a search for a luxury home in California. If you hire a real estate agent, you can move one step closer to purchasing an awe-inspiring luxury residence in the Golden State.